500g lean beef mince\ham\sausages\boiled meat
300g  of mushrooms
1 -3 tomatoes
500-700g of puff pastry
200-300g of cheese (Mozzarella)
herbs to taste
Put the puff pastry on the baking dish pressing around the edge – you can do it with just your fingers and it will be considered the American variant as it will be thick or make it thin with rolling-pin- so it will be Italian one.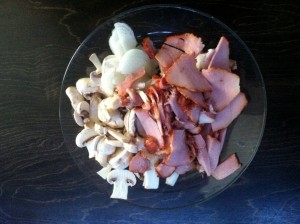 Place over the filling: mince, sliced mushrooms, tomatoes, a bit of sliced onions- whatever you have in the fridge to cook your home made pizza.
Bake at 200° for 20-30 minutes or until golden brown.
This recipe is offered by the staff of MyPartnerForever – we hope you will enjoy it !